Member of the following organizations: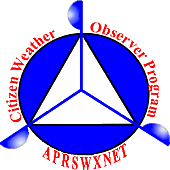 [10/10]

The above image was produced by GRLevel3 software using NEXRAD Radar data from station KEAX.
Storm Cell Attribute Table for Kansas City, Missouri (KEAX) Radar
Retrieved: Fri, 19 Dec 2014 00:29:05 -0600; Data valid day: 19; Data valid time: 0614Z (Refresh)
Storm Ident
Az/Ran
TVS
Table
MESO
Table
POSH
POH
Max Size
VIL
Max dBZ
Height
Top
Fcst Mvmt
No Thunderstorms in Range of Radar Site
Algorithms produce this table. They may misrepresent observed conditions.
This table has been made possible using scripts written by Jordan Gerth. Obtain these scripts for your web site.
Radar Legend